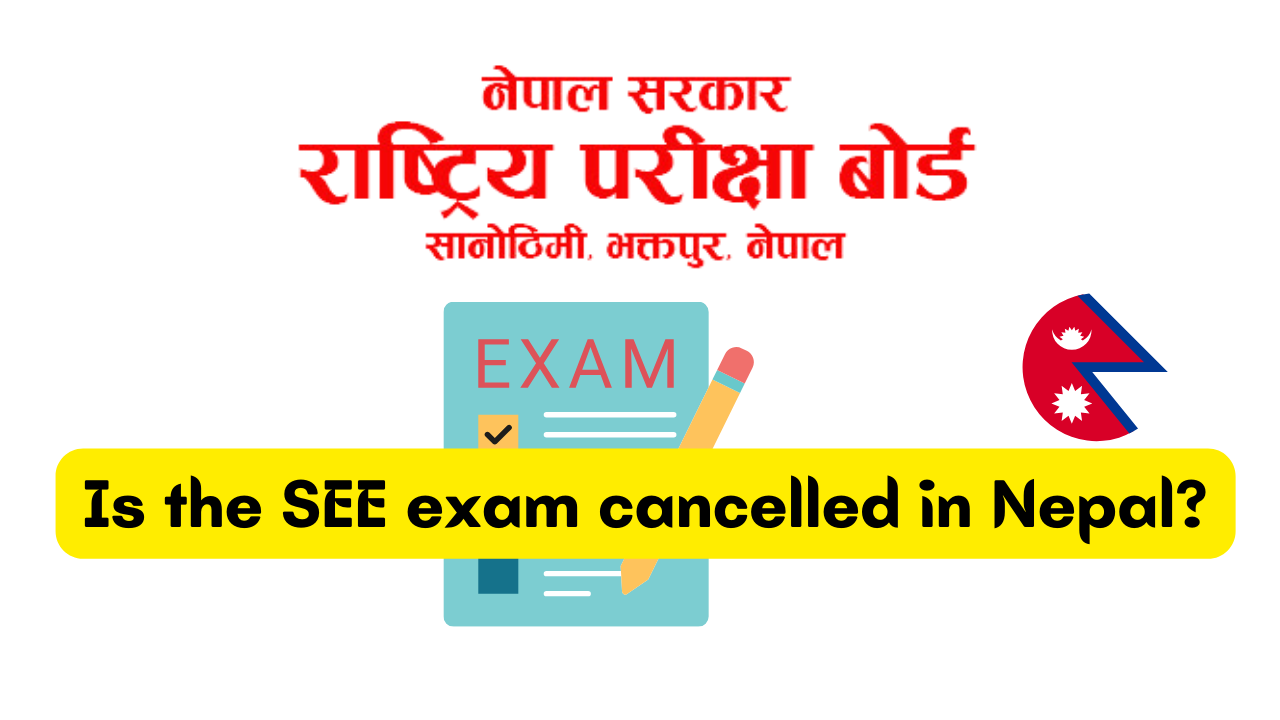 ---
SEE Cancelled In Nepal
BIG NEWS: Government has decided to cancel the SEE examination in class 10. The National Examination Board (NEB) will now conduct board exams in class 12 only.
Until 2022-2023 Batch (2079 Batch), the National Examinations Board (NEB) conducted the Secondary Education Examination (SEE) every year. Now, schools conduct the SEE, and NEB only conducts the Class 12 board exam.
This is one of the biggest changes in Nepal's education history. The SEE was once seen as a golden gate in student life, but now schools have more control over the assessment process.
---
Is the SEE exam cancelled in Nepal?
Yes, the SEE exam for Class 10 was cancelled by the Ministry of Education in 2023.
The education bill has been prepared so that the annual examination of class 10 will be conducted by the school itself.
Will there be a SEE Class 10 exam in 2081?
No, The SEE Class 10 exam has been discontinued and will not be held in 2081.
You can read Latest School Education Bill, 2080. Download now.
---
Some Info from Education Bill 2080, Nepal.
At least a graduate to become a teacher!
The right to transfer teachers to the local level!
SEE canceled! The board conducts only class 12 exam
10% in teacher service commission for poor Khas Arya!
Mathematics, science and computer should be taught in English!
The name of the unit again is Ji.shi.ka The name of the center is the Department of Education!
The district education office will prepare the questions for the annual examination of class 8.
A teacher should not have polygamy. Teachers should not sexually abuse students or anyone else. It is not allowed to beat students and to give physical or mental torture to anyone.
There will be a maximum of 2 teachers of specific category of secondary level in each province.
Teachers should not be involved in any kind of political activities.
If a teacher joins a political party or engages in political activities, he will be dismissed from his job.
Prohibition of demonstration, strike, encirclement of teachers.
The village executive or the city executive has the right to dismiss the teacher.
Basic level teachers can be candidates for promotion within 4 years.
Teachers after Chait 4, 2075 will not get pension. Must go for mandatory contribution based pension.
Teachers will not be transferred from one local level to another within 3 years of permanent appointment!
Basic level (1-5) with graduation in any subject, Basic level (6-8) with graduation in related subject, After completing a master's degree in a related subject, one can become a secondary level (9-12) teacher.
---
FAQs
What is the SEE exam?
The SEE exam, or Secondary Education Examination, is a standardized test that was administered to all Class 10 students in Nepal until 2023. It was conducted by the National Examinations Board (NEB).
Is the SEE exam cancelled in Nepal?
Yes, the SEE exam for Class 10 was cancelled by the Ministry of Education in 2023.
Why was the SEE exam cancelled?
The government has not given a specific reason for cancelling the SEE exam, but some possible reasons include:
To reduce the stress and pressure on students.

To give schools more control over the assessment process.

To make the education system more flexible and adaptable to change.
What will happen to Class 10 students in Nepal now?
Class 10 students in Nepal will now be assessed by their schools. Schools will be able to design their own assessment systems, which may include exams, projects, and other forms of assessment.
What are the implications of the SEE cancellation?
The SEE cancellation is a major change to the education system in Nepal. It is too early to say what the full implications of this change will be, but some potential implications include:
Schools may have more autonomy in designing their own curricula and assessment systems.

Students may have more flexibility in their learning and assessment.

The quality of education may improve as schools are able to tailor their curricula and assessment systems to the needs of their students.
What are the next steps for the government and schools?
The government and schools need to work together to ensure that the transition to a new assessment system is smooth and successful. This will involve developing clear guidelines for schools on how to assess their students, as well as providing training and support to teachers.